------- DISCONTINUED -------
SmartCraft® Gauge Rims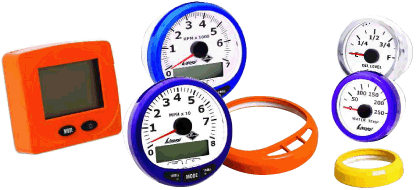 Removable and reusable rims
Matches other Livorsi products
Easy way to change the look of your dash
These rims are not powdercoated, they are colored using a two coat automotive process.

SmartCraft® Gauge Rims

System View bezel
SCSVB
$107
Link rim 2" N/A
SCLR2
-
Link rim/ system monitor 3" N/A
SCLR3
-
Link rim 5" N/A
SCLR5
-
System rim 3" round
SCSR3
$13
System monitor rim square N/A: orange, tangelo or teal
SCSMR
$19
Please 847.752.2700 call for availability
ANALOG GAUGE INTERFACE

Did you know you can use analog gauges with SmartCraft® engines?
With all of the great new motors coming out and computer technology making a strong presence in the newer boats, it can be tough to keep up-to-date with what works with what. For those of you who have or are purchasing a new(er) boat, you may be getting one that is "Smartcraft-ready" - it's specially designed to work with Livorsi's Smartcraft line of gauges.
But, now, thanks to their new ANALOG GAUGE INTERFACE (AGI), you can use analog gauges with a computer/ "SmartCraft® ready" engine and, have them work perfectly! And, based on the table below, you'll know exactly which AGI to order - no guessing. If you're unsure - call us!!
Installation is very simple. Attach one end of the AGI to the motor. Snap off the connector covers for the gauges you are using and make the connections.
So, if you want a new boat, but prefer analog gauges, this Analog Gauge Interface will let you use the gauges you 're comfortable with and get back on the water.
MERCURY MODEL #

ANALOG GAUGE INTERFACE (AGI)

GAUGE FUNCTIONS

"BLUE MOTORS" 525 600 850 1075

MERCURY # 892486K04

LMI # AGIBL

TACH OIL PSI COOLANT TEMP OIL TEMP FUEL PRESS

"BLACK MOTORS" "VERADO" OUTBOARDS

MERCURY # 892486KO1

LMI # AGIBKVO

TACH OIL PSI/LEVEL WATER TEMP FUEL LEVEL TRIM