LED Position Indicators for:
Tabs, Drives, Jackplates, Rudder, Fuel or Water Level
The LED position indicators eliminate the need for mechanical 33C cables which are typically used for drive and tab indication. These cables have a tendency to deteriorate, will fail over time, and are inaccurate due to lost cable motion. With the Livorsi LED indicators, mechanical cables are replaced by more reliable network wiring that allows 'plug n play' connectivity into existing tab or drive position sensors.
Another valuable feature is the single middle green LED. During calibration, this LED display can be set to indicate 50% of actuator travel, fuel level or whatever you are monitoring. What makes it so special is that it allows you to establish the optimum running angle - or sweet spot (not at 50%), to dial-in the vessel for optimal running efficiency so the novice boater always runs at the correct trim.
If you do not have drive trim or tab sensors, we have the solution. For applications or retrofits that do not have electronic position sensors, Livorsi can provide you with a mechanical to electronic converter solution
No matter what information you are looking to display (fuel level, drive trim, tab position, etc.), the data is brought into the communication network with 'plug n play' harnessing and is received (Rx) via the network cable to the LED indicator for display. The LED indicator can also transmit (Tx) this information via CAN bus to other compatible displays such as Garmin, Lowrance or Raymarine via NMEA 2000®, SmartCraft® (with Gateway) or J1939 protocols.

Receive and Transmit information between the indicator and screen display
If your boat is already transmitting (Tx) NMEA 2000® data (tabs, drives, fuel level, water level, rudder angle, etc.), simply plug the indicator into the NMEA 2000® backbone to begin displaying the desired feature on the indicator.
Summary of Features
Compatible with SmartCraft® (with Gateway), NMEA 2000® and J1939 (RX + TX) Devices
Supports 0-5 volt or resistive type sensors
Fill bar type- multiple LEDs lit in a row starting from top or bottom
Pointer type - one LED pointer displays your position/level top or bottom
All electronics are environmentally sealed
Simple plug and play installation
17 LED lights per slot with a red LED warning light located at the bottom of the slot
The green LED in the center may be calibrated to show optimum run angle (sweet spot) for drives, tabs, etc.
Built-in ambient light sensor automatically adjusts to ambient light levels with 250 brightness intensity levels
Has the ability to compensate for non-linear tanks giving you accurate readings
1 to 4 slot configurations, vertical or horizontal
Wide input supply voltage of 7-32 VDC with reverse polarity protection
Indicators are available in a variety of colors to match your Livorsi gauges and accessories
Indicator Pricing begins at $569.00
For more information please call visit our website, call Livorsi at 847.752.2700
or email sales@livorsi.com.
Livorsi DTS Controls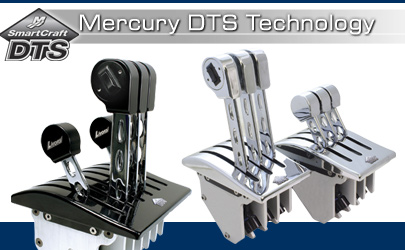 These controls are designed to work on all Mercury DTS equipped engines:
Verado 150 – 350 SCI
Mercruiser 5.0L – 8.2L
Optimax 225
Mercury Racing 565, 1100, 1350
and Cummins engines that are DTS capable
Livorsi Marine, Inc. has obtained a license from Mercury Marine which allows us to combine DTS (Digital Throttle and Shift) technology with the options and quality of Livorsi controls.
Livorsi Smartcraft® Digital Throttle & Shift (DTS) controls provide smooth and safe shifting. Direct drive of throttle position sensors results in faster response times, giving you complete control of your boat.
These controls provide consistent precise control of your boat using Smartcraft® DTS technology. These DTS controls are smaller and lighter: constructed of stainless steel and billet aluminum for years of dependable service. The user has the ability to adjust tension for each handle.
Single, twin, triple, and quad control configurations are available in a variety of styles and colors. The ergonomically designed knobs feature your choice of single or twin drive trim switches or momentary up and down switches.
Shadow Mode
Shadow Mode for Livorsi DTS Controls is now available. Shadow mode allows for automatic throttle synchronization for triple or quad engine applications; where two throttle levers operate three engines or four engines. Requires appropriate Mercury shadow mode rigging kit.
Visit our web page for a list of available DTS colors and rigging kits.
Links
To request the Industrial Catalog,
click here
To request Vol. 18 catalog,
click here