DISCONTINUED
Drive Temperature Kit
Livorsi's new drive temperature kit accurately measures the oil (gear lube) temperature of your drive. The majority of all drive failures begin with the drive generating excessive heat. This overheating can only be detected by measuring the gear oil temperature directly from the drive.
Drives are expensive, why not take proactive measures to protect them?
This kit keeps you alert of overheating that maybe caused by: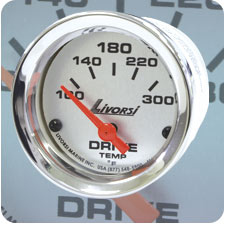 Damage to propeller or bent shaft
Water pump failure
Condition of gear oil or loss of gear oil
Water ingestion
Outdrive seal failure
Gear and bearing condition
Drive temperature is displayed on an easy to read 2 1/16" gauge. The use of water resistant, dust proof Deutsch connecters simplifies wiring and installs easily to most outdrives.
Help maintain the performance and longevity of your drives, and protect them with the help of the new Livorsi drive temperature kit.
Gauge Size:

2 1/16" cutout, 2 3/8" overall

Kit Includes:

gauge, 25 ft harness, thru hull fitting and temperature probe.

Part Number:

DCSDTK + dial color + rim color + rim style
(sold as a kit only)

Applications:

Mercury Alpha and Bravo Drives
Other drives – call for information
Note: Verification of adequate clearance is required